Owning a gun is both a constitutional right in the United States and an enormous responsibility. Gun owners must take steps to prevent firearms from falling into the wrong hands while ensuring easy access should the need arise. Gun safes offer a solution by allowing you to protect your investment and secure your rifles, shotguns, and pistols.
Finding the right gun safe can be challenging, and they are not all created equal. There are many things to consider, such as your budget, capacity, fire ratings, burglar ratings, steel thicknesses, lock choices, location, and more. So how do you determine which one will work best for you?


Here are Seven Things to Consider Before Buying a Gun Safe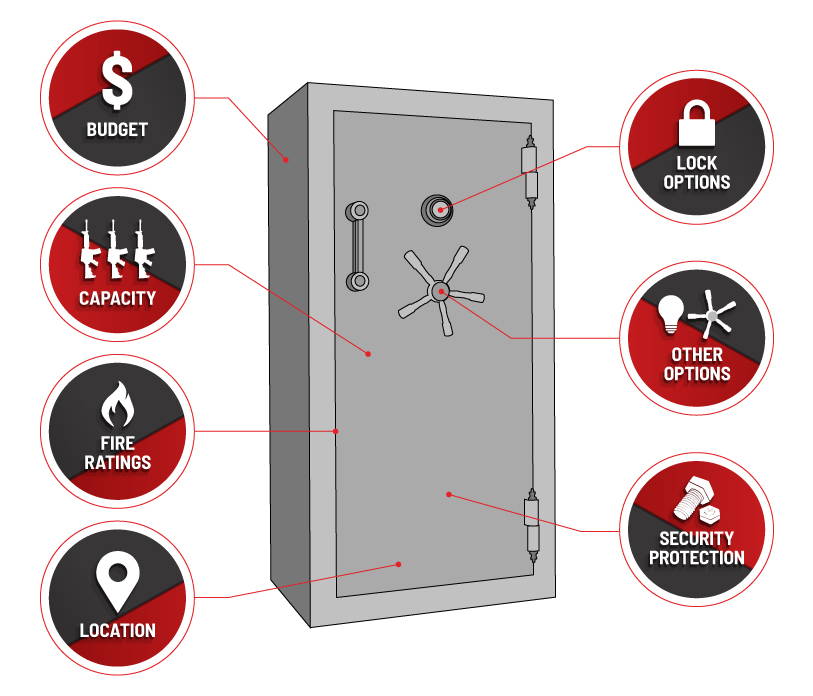 What can you afford?
The first thing to consider is your budget. What you can afford will help determine the best options available in your price range. Even if you decide after researching that you need something above your budget, you at least have a starting point. We also offer financing options through our partner Affirm, allowing you to make monthly payments if that works better for your budget.

How Many Rifles do you want to Store?
The next step is determining how many rifles you need to secure. Remember to account for growth as you may add more rifles and other items in the future and require more space. You don't want to buy something too small and have to upgrade later. Rifles with scopes also take up an extra gun slot. For example, if a gun safe says it can hold 22 rifles, that would be equivalent to 11 rifles with scopes, so keep that in mind. You also don't want your rifles banging into each other, causing damage to the optics or scratches to your rifle.

How long do you need?
Fire ratings go by minutes or hours of protection. A gun safe with a fire rating means it has fire material between the steel walls, either drywall type material or a concrete composite. Both types are designed and engineered to keep heat out of the safe interior.


If you are in the city, a 1-hour fire rating should be plenty as the fire department should be able to get there quickly to put water on the fire. However, a 2-hour fire rating may be a better choice if your location is rural, where it will take the fire department longer to get to you. Also, consider a 2-hour fire rating if you live in a state with frequent forest fires like California or Washington.


Rifles are not the only thing that you may want to protect from a fire. You may also want to store your important paperwork and valuables inside. The fire tests ensure that the inside temperaturedoes not exceed 350 degrees Fahrenheit. Where the gun safe manufacturer had the fire test done is also critical. If you want a higher level of fire protection, consider safes tested by a reputable company like Intertek (ETL). You will see this fire test sticker on the inside of the door.

How secure do you need?
Security is just as important as fire protection. How secure you want your gun safe depends on your budget and the value of the items you are putting inside. Here are some security protection features to look at:
Steel Thickness:

The thicker the steel, the more secure your gun safe will be and the longer it will take for someone to break in. The higher the gauge, the thinner the metal. The lower the gauge, the thicker the metal.

Bolts:

The more bolts, the longer and the thicker they are, the more difficult the door will be to pry open.

Hardplate:

A hardplate sits between the outside steel and the lock. It makes it more difficult for someone to drill out the locking mechanism and open your safe.

Relockers:

A relocker is designed to fire if someone is tampering with the locking mechanism, locking up the bolts.
You will also see different burglar ratings, such as RSC (Residential Security Container). Underwriters Laboratory does this physical test on the safe door. You will see this label on the inside of the door. You can read about what the different burglar ratings mean.

What lock is best for you?
There are many lock options to choose from, and each one comes down to personal preference. Each lock has pros and cons, so you must decide which one works best for you.
Dial Combination Lock:

Make sure the dial combination lock is UL-rated Group 2. This lock is the most reliable because the technology has been around for over 100 years. There are no batteries to change with a mechanical lock.

Digital Electronic Lock:

Make sure the electronic lock is UL-rated Type 1. This lock will give you the quickest access to your firearms in an emergency. You can also change the combination yourself at any time.

Biometric Lock:

You don't need to worry about forgetting a combination or losing a key. Just a swipe of your fingerprint gives you immediate access to your firearms.

Where should you put your gun safe?
The location of your gun safe is essential because you want to ensure it is in a place where you can easily access it but not a place that a burglar would first check. If you put your gun safe in an area that is hard to access, you may not put your items inside that need protection. One of the most secure places is in your basement, bolted to the floor. A primary bedroom closet may be convenient, but it may be the first place a burglar checks. You may also have to consider the weight. A 1,000-pound gun safe or above may be too heavy if it's going up to a second floor.

What else do you need?
Finally, choose the options that you need. Some gun safes offer different color options, hardware options, handles, jewelry cabinets, and more. If you are worried about humidity, you may alsowant to add a dehumidifier rod. A light kit illuminates your items if it is going in a dark area. Again, there are many different options to choose from that allow you to customize your gun safe.
Protect your firearms and gain peace of mind for you and your loved ones by purchasing the right gun safe for your needs.
Need help? Our safe professionals have decades of industry experience and enjoy every opportunity to communicate with our customers.Reach out via chat, emailor phone.